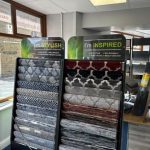 Quality discount carpets in Sabden are a fabulous, value-for-money solution. One usually expects to pay a large sum for a quality carpet. However, when you pay us a visit, you will find both quality and exceptionally good prices. Placing carpets throughout your home is easy when you choose from our extensive range. And, as they are all quality carpets available at top discount prices, it is a win win situation. There are several excellent benefits to using carpets in your home. Notwithstanding that a carpet offers a luxury look to any room, it also offers warmth and insulation. On top of that, using carpets in your home can also improve the indoor air quality.
We are happy to offer our customers an extensive range. Thus, in Sabden, quality discount carpets are available in many different styles, colours and types. The best way to choose your new carpets is to pay us a visit and view our delightful range. We offer stain resistant carpets, along with luxurious wool carpets. Furthermore, we also offer top carpet names including Wilton and Cormar carpets. You may find it difficult to choose the one you like best! However, our expert team is always available to provide advice and suggestions. In addition, we offer a fitting service. When you have your new carpets, our expert installation team can install them perfectly.
Choose from a fabulous range of quality discount carpets in Sabden for your home. You can choose a gorgeous carpet for every room in your house. Our many years of experience in the flooring trade make us the number 1 choice for your new luxury carpets – and at a great price. As such, we have provided ou expert services to all our customers for over 20 years. For more details on how we can assist you with quality discount carpets, contact Marks Carpets right away. We are open from Monday to Saturday for your convenience. It is easy to give your home a makeover with our quality, luxury carpets. Choose the style you like best today, and change the look and feel of your interiors.